Give your contributors
skin in the game and
create a sense of ownership
KOOS is a simple legal and technological solution for motivating and rewarding the people who contribute to your business. Boost your growth by sharing success.
Why?
Ownership-like benefits
work better than any other
Greatness is
never built alone

Your community of contributors will help you to promote, sell and improve your product – IF they feel that their effort is recognised.

Skin in the game
gives sense of ownership

Give your community skin in the game and a sense of ownership, so they're rewarded for growing your business and motivated to stay.

Share the success
when goals are achieved

Give back to the contributors who helped you grow – but only when you meet your business goal. No results, no payout.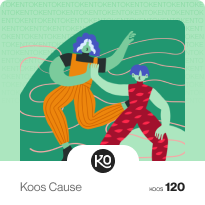 Startup Awards 2022
What?
KOOS – Platform that makes it
simple to motivate and manage
a community of contributors
by issuing virtual shares.

Virtual shares replicate one of the most important parts of a real ownership in the company allowing the virtual shareholders to participate in the company's financial success.
As a result, both the business and contributors benefit measurably and meaningfully – companies can achieve their business goals and contributors get a share of the success they helped to create.
Motivate and manage your community with ease using a range of tools from analytics to community guidelines.
How?
Define your goal

Define the goal you want to reach with the help of your community and the actions you will reward shares for

Set the share pool

Decide the amount you're willing to share with your community

Track and manage

We record these impactful actions, take care of the legal requirements so you can track and manage progress

When you win everybody wins

Once you reach your goal then KOOS makes the payouts to those who contributed to your success