Unleash the potential of community-led growth
KOOS.io provides you with the technology and coaching tools to engage and reward your community, so that they become emotionally and financially committed in your business success.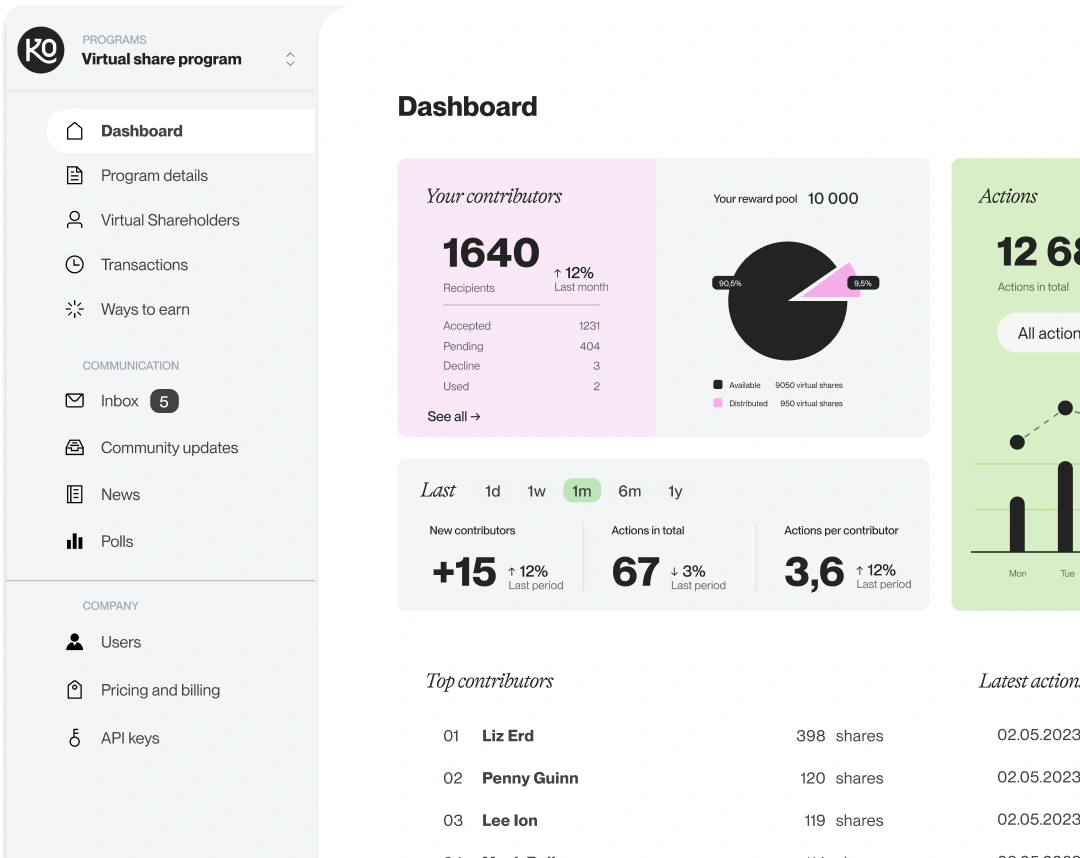 How?
Simple way to
engage and incentivise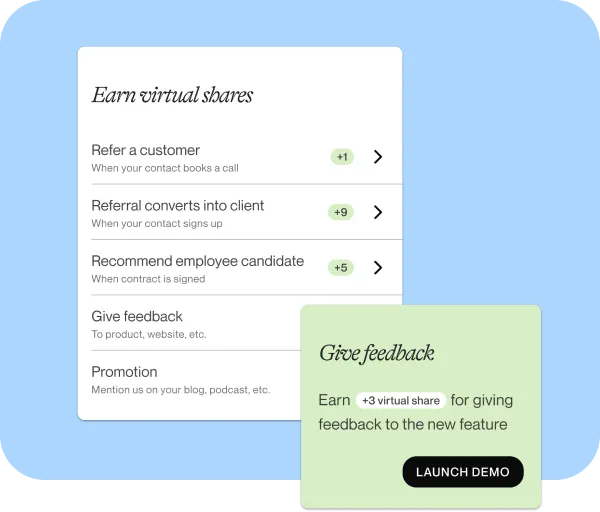 Engagement activities
With KOOS you can easily reward impactful deeds to contributors outside your "official" owners' circle. Think of it as your co-founding community.
Virtual shares
Virtual shares are a hassle-free financial instrument that can be issued to non-employees such as freelancers and fans to incentivise business growth.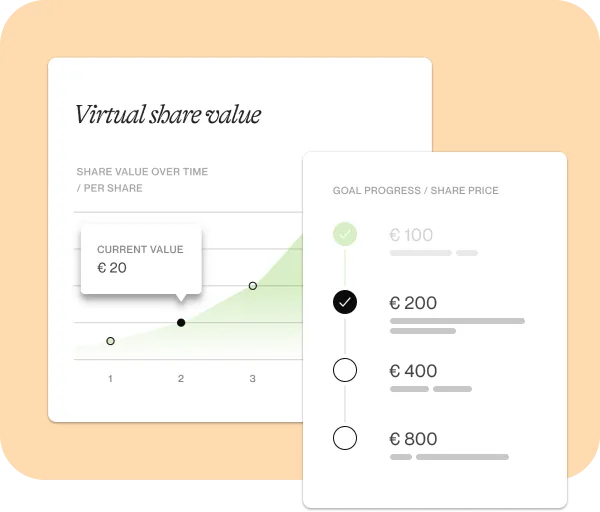 Driving growth
The value of virtual shares is dependent on business growth. The more you grow the more the virtual shares are worth, keeping everybody incentivised.
Growth events recorded*
*Times virtual shares have been awarded for meaningful contributions
Startup Awards 2022
Why?
You're missing out on
extraordinary support
Greatness is
never built alone

You are missing out on significant growth because your partners, suppliers, customers, ambassadors, fans and others are unengaged and not involved in your success.

Building connections
and fair rewards

When the people around you feel connected to and valued by your brand, they will often go above and beyond to help you. Imagine what could happen when you would reward them fairly for that too?

Benefit from an engaged community

Brands that focus on engaging stakeholders like customers, partners, suppliers, and advocates generate a self-sustaining cycle of growth and loyalty.
Manage masses with ease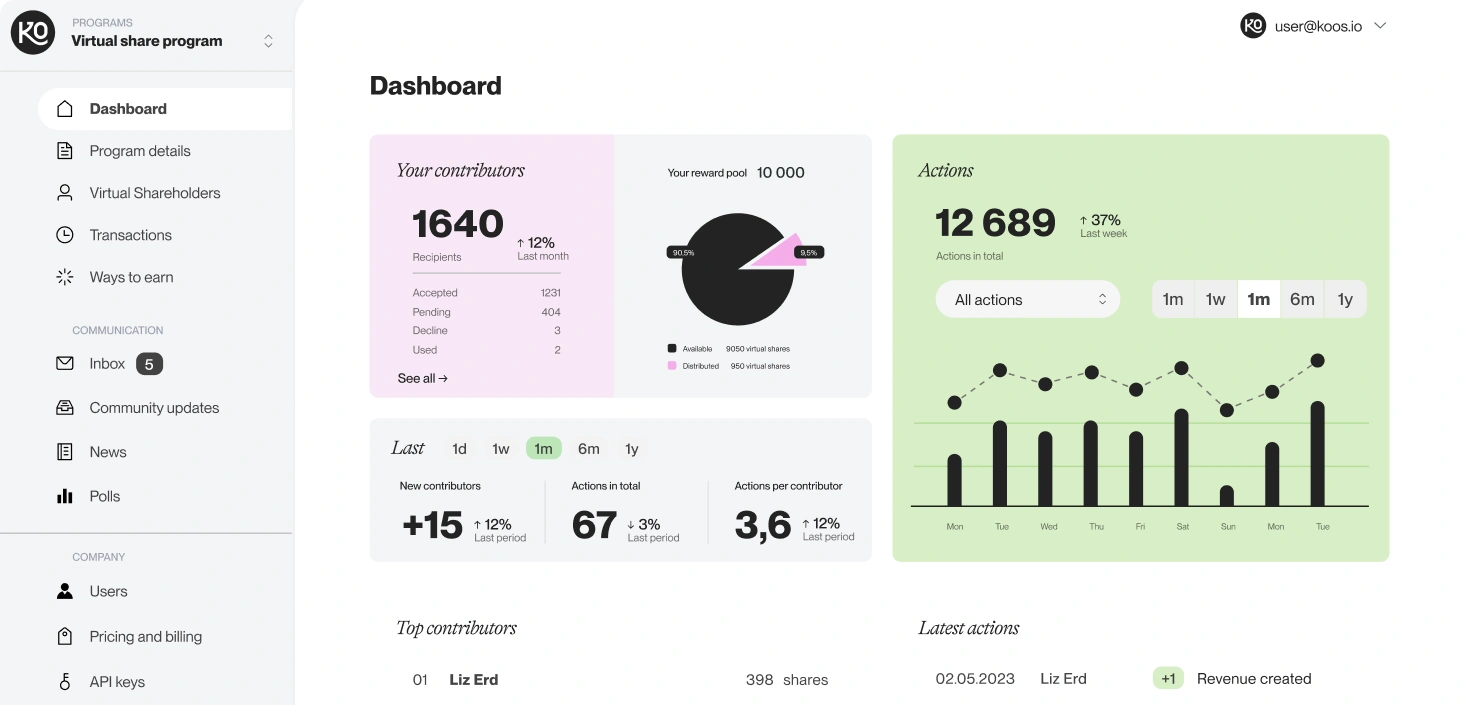 To implement a successful community-led growth strategy you'll need to build, grow, and sustain a thriving community around your brand
KOOS Community-led Growth Program is designed to guide businesses in building a strong ecosystem of contributors and fans who help grow the business organically through incentivized contributions.
Book a call →
You'll benefit from an
engaged community by
Increased revenue through new customers and higher lifetime value
Reduced customer support costs
Reducing customer acquisition costs
Access to your own talent pool
Faster & more precise product development by getting honest and insightful feedback
Growing your brand and advocacy through user generated content
Hear it from our customers