Unleash the potential of
community-led growth
KOOS.io gives you the virtual share technology and community coaching tools to reward and motivate your contributors so that they are emotionally and financially invested.
Why?
You're missing out on
extraordinary support
Greatness is
never built alone

You are missing out on significant growth because your partners, suppliers, customers, ambassadors, fans and others are unengaged and not involved in your success.

Building connections
and fair rewards

When the people around you feel connected to and valued by your brand, they will often go above and beyond to help you. Imagine what could happen when you would reward them fairly for that too?

Benefit from an engaged community

Brands that focus on engaging stakeholders like customers, partners, suppliers, and advocates generate a self-sustaining cycle of growth and loyalty.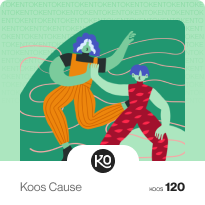 Startup Awards 2022
What?
KOOS.io – virtual share
technology and expertise
to build a loyal and engaged
community
KOOS will help you to create the community strategy and implement it to build a loyal and engaged group of people who are driven to help you succeed.
One key way to sustain community engagement and activity is to reward members for their actions with virtual shares for the activities they do that help your company grow.
Virtual shares have potentially a higher value than instant cash or other traditional bonuses and it allows the virtual shareholders to participate in the company's financial success.
Interested?
To implement a successful community-led growth strategy you'll need to build, grow, and sustain a thriving community around your brand
KOOS Community-led Growth Program is designed to guide businesses in building a strong ecosystem of contributors and fans who help grow the business organically through incentivized contributions.
As a business, you'll benefit from an engaged community by:
Increased revenue through new customers and higher lifetime value
Growing your brand and advocacy through user generated content
Reducing customer acquisition costs
Faster & more precise product development by getting honest and insightful feedback
Reduced customer support costs
Having an access to your own talent pool